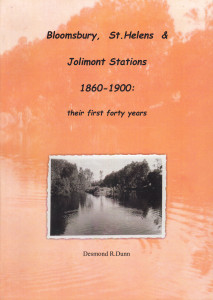 The Queensland Family History Society Annual Family History Awards presentation for 2013 was held on 19 June. Desmond Dunn, who is a member of the Mackay Family History Society, was honoured to receive the Highly Commended Award for his book Bloomsbury, St. Helens & Jolimont Stations 1860 to 1900: their first forty years. These were once three adjoining stations covering most of the coastal region between Mackay and Proserpine.
The judges commented that "with the focus of the book upon the stations, it is a local history, with many families. The presentation, english expression and historical accuracy are excellent; while the referencing and indexing are well done."
The book describes the original selection of this very large tract of land by the well known Macartney family, and its subsequent subdivision in accordance with government policy of the day to encourage closer settlement. There are stories about the aboriginals, the native police, the development of communication with the building of the telegraph line, the Bowen Road and the fledgling postal service; plus details of many pioneering families who settled there during that period.
This book is available from the Mackay Family History Society for $34.95; plus trackable postage for $15.