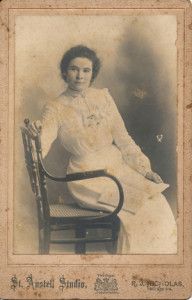 This photo of a young unidentified woman sitting in a bentwood chair and holding a book was taken at St Austell Studio in Mackay. It is a  photo from the Boese family collection.  The Boese family lived at Farleigh from the early 1880s and moved to Brisbane in the 1930s.
The photo was taken in the early 1900s as RJ Nicholas operated St Austell Studio with a Vice-Regal appointment.
Please let us know if you can help identify this young woman.
Previous Can You Help requests