Society wins another award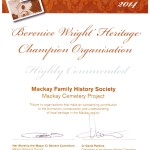 The Society is proud to receive a Highly Commended in the 2014 Heritage Awards for their Mackay Cemetery Project. The Award was presented at the Greenmount Heritage Fair on Sunday 25 May 2014.
This ongoing project, undertaken by our volunteers is aimed at creating an accurate burial register for the state heritage listed Mackay cemetery. With over 10,000 burial records being reviewed over the past two years, the project seeks to preserve the memory of Mackay's early settlers and pioneers for their ancestors and the Mackay community, These volunteers have been working for several years on this project and are approximately 2/3rds of the way through some 15,000+ burials. 
Good News!! – Mackay newspapers to be digitised
Inside news from the National Library of Australia is that The Mackay Mercury from 1867-1905 and The Daily Mercury from 1905-1954 are due to be digitised and uploaded to their Trove site during the 2014/15 financial year.
New Irish sites of interest
Do you have Irish ancestry? The National Archives of Ireland has recently gathered the Census fragments from 1821-1851. You can find more information about this and other sites of interest on the Interesting Links page under Resources. You can also see original church registers for some counties – both Roman Catholic and Church of Ireland, on the Irish Genealogy web site. This government website also provides advice on searching for your ancestors in Ireland and provides links to many of the important web sites.
Check out the latest articles in the Blog!

Read about some of Mackay's pioneers and the intriguing stories behind one family's postcards which were written over 100 years ago.