Boese-Coogan Postcards #2: Goldston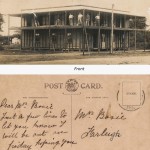 This is the second of the Boese-Coogan postcards. For a description of the origin of these postcards,  see Postcard 1. Contributed by Cathie Sherwood
When I first saw this card, I immediately assumed that the builder was coming out to Farleigh from Mackay to do some carpentry work for the Boese family.  The card is undated so it meant some investigation to estimate a time frame for when it may have been written. The front of the card has WP Goldston, contractor, written in the top left hand corner.  The person who wrote the card is L Goldston.
Link to larger image of the postcard
Research
I initially looked at Goldston births, deaths and marriages in the QLD online indexes and found John Goldston who was married to Martha Howe Seamer and who were the parents of 8 children (under the Goldston name). Looking under the Goldstone name, I found another 3 children listed but interestingly, Lucy, the last child born to the couple has 2 birth entries – one under the name Goldston (1883/C4475) and one under the name Goldstone (1883/C4401). By these calculations, John and Martha had 10 children.
Who wrote the card?
I investigated births, deaths and marriages further and found that the eldest of John and Martha's children, William Paul (obviously the WP Goldston on the postcard) had a daughter who is listed as Lucinda Grace in the QLD BDM index.  Now she was born in 1893, only 10 years after her aunt Lucinda.  So, my dilemma, not knowing anything about the family, was to try and determine which one of the two may have written the card. At first I assumed that the card would have been sent by Lucinda Grace, the daughter of William Paul as it was her father's 'business postcard'. Further research, however, seemed to indicate that she was known as Grace Lucinda as she married under that name and it is recorded that way on electoral rolls and in a reference to her in the Townsville Daily Bulletin in 1912. So would she have signed a postcard with L Goldston if she used the name Grace as her preferred name? If Lucinda Grace/Grace Lucinda wrote the card, then it would have to have been before the 29 August 1915 as she married William George Hodges Porter on that day. If Lucinda (Lucy) Goldston, William Paul's sister and the aunt of Grace Lucinda, wrote the card then it would have to have been before the 22 December 1909 as she married Robert Lockie on that day.
My feeling is that the card was written by Lucy Goldston and not Grace, her niece.
Where was the photo taken?
An article in the Townsville Daily Bulletin on Friday 10 April 1908, notes that Mr W Goldston and his staff of carpenters passed through Nebo on their way to Mt Flora to erect the new hotel there. The following article in the Daily Mercury mentions the hotel being completed and a photograph very similar to the one on the postcard.
Could this be a photo of the Mt Flora Hotel under construction? It looks very similar to many of the other hotels erected in Mackay at the time. According to the listing of hotels at the Mackay History site the Mt Flora hotel operated under that name between 1873-1874 and in 1910.  It was also listed as Loughnane's between 1909-1911. The date would also tie in with my theory that the postcard was written by Lucy before her marriage to Robert Lockie in 1909.
Who was the Goldston family?
There are a number of well-documented trees relating to the Goldston family on Ancestry. John Goldston and his wife Martha Howe Seamer were one of the earliest settlers in the Mackay district having arrived in the early 1870s by bullock from Gladstone. Originally they were from Kent in England and arrived in Australia in the early 1860s. In 1867, according to the QLD Government Gazette, Martha Goldston and Carl George Theodor Schultze leased 66 acres in the County of Clinton (Gladstone) from the 1 December 1866. They paid £8 5s 8d for the first year's rent. John Goldstone is on the electoral roll as a freeholder in the Port Curtis area at Grass Vale from 1870-1871.  By 1877 he is in Sydney Street, Mackay as a householder. He later leased land on the Balnagowan No 3 run and the Hamilton run, grew sugar cane and built yards and houses. He was also the licencee for the White Horse Inn at The Leap between 1887 and 1888. John died at "Sea View Farm", Habana on the 01 October 1901. Following his death, Martha moved to Hill End (now Glenella) where she is listed on the electoral roll for 1905 and again in 1908. In the 1904 QLD PO Directory, Percy John Goldston is living at Farleigh and in the 1905 Directory, Frederick is at Farleigh, Percy J is at Quarry Hill and William P is in Juliet Street.
In the 1906 electoral rolls, Frederick is at Seaview Farm, Habana, and he is a sugar drier while Percy J is the farmer. Martha Goldston died in 1907. Frederick decided to also undertake carpentering work as he won the tender in 1908 to construct the school at Finch Hatton for a cost of £486 18s 4d.  In 1909, he won the tender to erect the police station and court house again in Finch Hatton for £965 but by 1910 he was declared insolvent. Lucy appeared on the electoral roll in 1906 Alexander St, Mirani and has domestic duties. I do not know what she was doing in Mirani but she married Robert Lockie in 1909.  He was a labourer but may have been related to James Lockie who was a baker there. James Lockie had been a baker and grocer at Eton prior to establishing his business in Mirani.
Lucy and Robert moved to Mount Morgan for a brief period and then came back to Mackay.
Why was Lucy visiting Mrs Boese?
This is a mystery which may never be solved. Lucy writes that she "will be out" so it is likely that she is living at Hill End at the time, rather than Mirani which then puts the date prior to 1906. She writes to Mrs Bosie (sic), not to Alice's oldest daughter, Mena, who was two years younger than Lucy. It is highly unlikely that she would have required the services of a blacksmith like Rudolph Boese.
A side note
A very distant relationship arises between the families some years after the postcard is likely to have been written. In 1912, John Boese, the second son of Alice Boese married Gertrude Farley. Gertie's brother, Michael Garrigan Farley, married Edith Elizabeth Jordan in 1914 in Farleigh. In 1919, Edith's sister married Percy John Goldston, having divorced her first husband.
Can you add any more to the story?
If you have any further information to share, it would be greatly appreciated.  Do you recognise the building on the postcard?  Do you know why Lucy Goldston was visiting Alice Boese in Farleigh? Who do you think wrote the card – Lucinda/Lucy Goldston or her niece, Lucinda Grace/Grace Lucinda Goldston?