Submitted by Carolan Hill nee Hamilton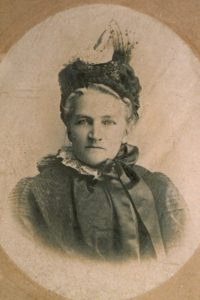 Janet Bogle Hamilton–Morris nee Stoddart (my 2 times Great Grandmother) was born on 17 August 1837 in Eddleston, Peebleshire, Scotland. She married Lawrence Hamilton on 3 August 1860 in Edinburgh, Scotland. Lawrence was in the 78th Highlanders and served in India during the Rebellion and other parts of the Middle East.
Their first son, George (my Great Grandfather) was born in Leith Scotland in 1861. Their second son, Arthur Stoddart was born in Dover England in 1864 and their third son, Alexander Thomson was born in Cannongate, Edinburgh, Scotland in 1865. Being an Army family, they moved to where Lawrence was posted.
Janet was a nurse and after Lawrence died in 1864, she married a fellow soldier of Lawrence's, Henry Morris. Henry was a widower with a daughter, Elizabeth. Henry and Janet married in 1871 in Aberdeen, Scotland. They had a daughter, Constance Isabella.
The family story goes that Janet was called on to help "wet nurse" the twin babies belonging to Charles and Louisa Cavendish-Bentinck who were the late Queen Mother's Grandparents. Charles and Louisa's other daughter Cecilia, Nina was the Queen Mother's mother.
Janet, Henry and daughters came out to Mackay, Queensland, Australia on the ship "Waroonga" arriving in 1887. The Hamilton brothers came out earlier with the Stevenson families.
Janet and daughter Constance operated a Nursing Home for expectant mothers, situated in Davey Street, Glenella, Mackay where the Northview Aged Care Centre is now.
Janet died at 95 on 4 September 1932 and Henry died in 1903. They are both buried in Mackay Cemetery. Janet received an annuity from the Queen Mother's grandparents until she died, as a 'thank you' for the help with the twins, Hyacinth Mary and Violet Anne.