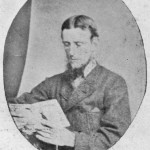 by Judy Wallace
Henry (Harry) James WALLACE was born at Ballycourcy, Co. Wexford, Ireland, on 2 August 1847 and was baptised at St. Mary's Church of Ireland, Enniscorthy, on 22 October. He was the 10th of 13 children born to William James Wallace and Anne Hawkins.
After the death of his father in 1859, Harry moved with his mother and siblings to Bath in Somerset, then to London. His older brother, John Thornhill James Wallace, had gone to Queensland several years before and Harry was desperate to follow him, so at the age of 18, he left London in November 1865 on the sailing ship Legion of Honour which reached Moreton Bay in February 1866.
Harry worked as a sawyer on Waverley Station near St. Lawrence while his brother was publican of a hotel on the Connors Range. When Thornhill moved to his own property, Killarney Station (also on the Connors Range), Harry went with him. He then moved on to manage Lake Elphinstone Station.
While working at Waverley Station, Harry had met Christina MYDDLETON, the second daughter of Henry Myddleton and Christina Fraser, of Victoria. They married in Mackay on 9 September 1875, and had six children: William Arthur (born in 1876), Alfred (Fred) Henry (born in 1878 at Lake Elphinstone), Allan Francis (born in 1879 and died at the age of 5 from diphtheria), Linda Elizabeth (born in 1881), Laurence Richard (born in 1883) and John Thornhill (born in 1884).
Harry and Christina settled in Mackay in 1879 and Harry became an auctioneer and commission agent. The auctions mainly comprised horses and cattle. Harry also ran coaches to the gold diggings at Mt. Lansborough and Nebo. The firm became known as Wallace & Myddleton in 1881 when Harry was joined by his brother-in-law, Frank Myddleton. In 1882 the firm was operating a daily passenger and mail coach to Walkerston. In March 1883, Frank Myddleton was replaced by another brother-in-law, Henry L Black, and the firm then became known as Wallace & Black. They began a coach service to St. Lawrence. Due to ill health, Harry Wallace retired from the partnership in 1885.
Harry Wallace belonged to the Caledonian Masonic Lodge in Mackay. In 1886/7, he had shares in several gold mines in the Lotus Creek area. However, they all seem to have been unsuccessful and were abandoned.
At the beginning of 1887, Harry was found to have TB and was given only a few months to live. However, on 3 February 1887, Harry and Christina set forth for St. Lawrence in a buggy drawn by two horses. It is believed that the regular coach driver was ill, and Christina insisted on accompanying her husband. They camped on the banks of the flooded Marion Creek at Ilbilbie for several hours, and when they thought the waters had sufficiently subsided, they attempted a crossing, but the horses lost their footing and the buggy was swept away uncontrollably. Harry and Christina were drowned, but their passenger, Archibald McInnes, survived.
Their two eldest children, Arthur and Fred, stayed in Mackay, while the youngest three, Linda, Laurence and Jack, were sent to England and reared by aunts They were all brought up in different families and some never saw each other again. Harry and Christina's grave at Ilbilbie near Marion Creek was restored a few years ago by their descendants.
Fred Wallace was reared by his uncle and aunt, Henry and Jean Black, but did not follow his father into real estate. He married Elizabeth Emily RUSS, daughter of Stephen and Mary Russ of Uruba, and after cane farming in the Pioneer Valley, moved south to Palmwoods and Nambour, later returning to Mackay. Their second son, Stewart Thornhill Wallace, joined the firm of Henry L Black in 1936, followed by his son, Stewart Ross (Ross) Wallace, in 1954.
Henry Wallace's descendants are now scattered all around the world – in the states of Queensland, NSW, Victoria and Western Australia, in England, Scotland and Wales, on the Isle of Man, and also in Canada and Spain. A Wallace reunion was held in Mackay in 1885 for the descendants of Henry James Wallace and John Thornhill James Wallace, and another in Tewantin in 1999.