The Story of Mary Ann Morris (nee Ruddell)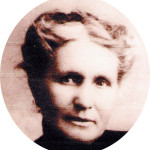 Contributed by Joyce Jensen, granddaughter of Mary Ann Morris
Mary Ann Ruddell was the eldest child of three children born to William Ruddell a linen weaver, and Ann Eliza Hanney. She was born on 14th October 1858 in Lurgan, County Armagh, Ireland. Her brother Thomas James Ruddell was born on the 4 th January 1865 and her baby sister, Elizabeth Ruddell was born in 1866, at Belfast, just seventeen miles up the road from Lurgan.
Mary Ann's mother died not long after Elizabeth was born. As seven-year Mary Ann was the eldest, she had to help her father raise the two children, which left her with the cooking, washing and looking after a baby for two years. On the 13th July 1868, her father remarried in Lurgan. Mary-Ann's new step-mother was Elizabeth Anderson of County Armagh. As new step-brothers and sisters arrived, Mary Ann decided she did not want to look after her brothers and sisters all her life and wanted something better for herself. She left London on the 2 nd December 1873 for Warwick, Queensland to be with her aunt Eliza Mogridge (nee Ruddell). She arrived in Brisbane on 5 th March 1874 on the Star Queen . She was fifteen years old and had come by "Free Passage".
When she went to live with her Aunt Eliza in Warwick, she was expected to work in their soap factory or cordial business, However, that wasn't what Mary Ann was wanting to do. An alternate option was to be housemaid to Aunt Eliza, her husband, Thomas Mogridge and their three children. She would be able to earn her keep, but she was not too agog about that idea either. When she met Henry Morris, a horse breaker and drover, she fell in love and married him. Seventeen year old Mary Ann and twenty-four year old Henry were married at her Aunt and Uncle's home in Warwick according to the rites of the Wesleyan Methodist Church.
After the wedding they settled in South Toolburra, Killarney, at a diminutive place where she used to ride side-saddle to town with cheese and butter to be sold. Mary Ann always had plenty of pride and dignity about her and she would change into her best clothes, which included her hat and gloves, when she arrived in town to sell her dairy products.
Mary Ann and Henry Morris had a productive marriage as far as children were concerned bearing eleven children. All but one of these lived to a ripe old age. Little Thomas James Morris, who was born in 1885, was scalded and died of complications soon afterwards on the 1 st December, 1886.
Frances Cecilia Bridget Morris was the second last child of Mary Ann and Henry, also the last one born at Greymore Creek, South Toolburra, near Killarney. They decided to load everything into a wagon and move to Bundaberg, where their youngest child was born on the 21st August 1898. This little boy was named Richard Percy Morris. After a spell they then moved to Toowoomba and later on to Herries Street, East Toowoomba. After settling down in Herries Street, Henry and Mary Ann named their home Armagh after the county in Ireland. After bearing eleven children, she told her husband "separate bedrooms from now on and no more children".
When Mary Ann and Henry's youngest child, Richard Percy was five years old, their eldest daughter gave birth to a daughter, out of wedlock, in Brisbane. Baby Florence Gertrude (Pearl) was taken in by her grandparents, Mary Ann must have had a heart of gold and plenty of courage, because when her second son, Stephen Henry Morris's spouse Emily Maud Chase died of typhoid fever on the 29 th January 1916 Mary Ann took in four of the five motherless children. There were the twins, Emily May and Maria Maud aged three years, six months; Myrtle Olive, aged two years, two months; and Kathleen Mary, a new baby who died a couple months after her mother. The son, Fred went to live with his maternal grandparents. In 1911, before the birth of the twins, Stephen and Emily lost a little girl.
Mary Ann Morris was regularly helping to bring babies into the world in South Toolburra and was known as a midwife with plenty of practice. In those days if your baby was ready to be born, someone stood outside the house with the lamp up in the air for the neighbour's wife to help with the birth. Consequently Mary Ann's experience was welcomed in Toowoomba. After twenty years practice in midwifery, she hung a sign on the front gate "Nurse Morris" and became friendly with the two doctors, Alec and David Horn. They highly regarded and respected Mary Ann and Henry Morris.
The house in Herries Street had ten bedrooms and most of Mary Ann and Henry's children were marrying and moving away to look for work.  At this time, she turned her home into a private Nursing Home, mainly for maternity cases. In those days when you gave birth, you stayed in hospital for 10-12 days. If the Wilga Private Hospital was full, it was not unusual for Mary Ann's colossal scrubbed-down kitchen table to be used for a tonsil or appendix operation.
Mary Ann's second eldest daughter Beatrice and young Frances went nursing at the hospital and later helped Mary Ann at her maternity Nursing Home. Beatrice later married Ruben Curren, and Frances continued to nurse until she got married in Mackay in 1982. In 1918, a law was brought in that all nurses must be registered so Dr Alex Horn made sure that Mary Ann was registered. On 1 st February 1913 she sat for her exam.
The Morris home was run very strictly. You always gave Sunday to the Lord, by going to Sunday School, then to St Stephens church where you sat in the Morris pew. When you arrived home you read the Bible, and definitely did no housework or washing. Mary Ann educated herself with the Bible. She could read and write a little when she immigrated and brought a family Bible with her, which she read every day. She educated herself quite well this way. She expected everyone else to live by the Bible and if not, you were shown the door. Men always wore a suit and coat with long trousers at meal times. Invariably everyone had a white serviette and a silver serviette ring. Grace would be said before anyone ate and when you were finished eating you would wait until permission was given for you to leave the table. The children were expected to be well-behaved and quiet, but as you can imagine it did not always work.
World War I broke out and James Ruddel Morris, the second youngest son, joined the army and went overseas, but he was fortuitous and returned home unscathed. His cousin, Norman Lesley Elliott, son of Mary Ann's step sister Cecilia Jane, died in France in 1917. James and Lesley were good mates, as well as cousins.
Mary Ann's eldest child, William Morris, married Caroline Kreis. The couple lived in Phillip Street, Toowoomba, around the corner from his parents. He was always a welcome visitor to his parent's home.
Harvey was sent away from home at the age of fourteen. He worked at the winery and consequently learnt to drink. His mother gave him a Bible and a swag and sent him on his way. He mainly worked on cattle stations, but never gave up alcohol. He died a bachelor at the age of eighty-one and is buried with his mother.
Mary Ann's husband, Henry, was a very composed gentleman, who was dominated by his wife. He died in 1919 of the plague, however his death certificate states that he died of influenza. His widow was able to support herself with the hospital and never wanted for anything. Her son Stephen always helped her with money when needed for the girls' keep and other expenses.
The War finished in 1918, and was followed by the depression. Things slowly began to be too much for the ageing Mary Ann, when Dr. Horn advised her to sell and move to a more temperate climate. The Toowoomba winters were taking their toll on Mary Ann's health. She also suffered from angina. Unfortunately, the prices of homes had fallen by this time.
In 1927, Stephen came to Mackay to join his brother, Richard Percy Morris and his wife. Stephen found work and Mary Ann, her daughter, Frances and Stephen's three daughters arrived in Mackay later the same year. They first lived with Percy and later rented a house in Moore Street. They later moved to Sophia Street, where Frances Cecilia was married from in 1932. Other Mackay homes that Mary Ann lived in included a house in Macalister Street and finally at 87 Wood Street, where she spent her final years.
Her daughter Beatrice Curren had a shroud made for her birthday. Everyone was aghast, but Mary Ann was delighted. In her final days she attempted to contact two of her sons, Thomas Joseph and Harry Morris. Even the police failed to locate Tom, but Harry wrote a letter to his dying mother and she died sanguine. She died on the 25th May 1944 at the age of eighty-six. Naturally, Mary Ann was ready for the Lord when her time came. She had lived to be an octogenarian along with her eldest son William (eighty-two years), eldest daughter, Mary Elizabeth Smith (eighty-seven years) and Harry (eight-one years).