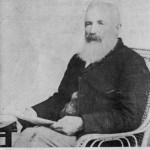 Taken from Mackay Genie Gossip Newsletter 13
Contributed by Carmel McDonald and Dawn Bilney
James and Mary Ready (nee Hayes) came from Ireland; James from Limerick and Mary from Tipperary. They met and married in Sydney in 1858, living on Gordonbrook Station on the Clarence River in NSW where their first child, Charles, was born in 1860. The family travelled to Fassifern Station (in the Ipswich district) where, at the end of 1861, Richard Spencer was in charge of taking a mob of cattle to the headwaters of Denison Creek to form a station for Mr Hardy and Mr Broughton. James was in charge of the bullock drays and his wife Mary did the cooking for the party. Mary was the only woman in the group. The last supply stop was Rockhampton as there were only a few properties being formed north of there.
After a hectic crossing of Connors Range, Mary gave birth to her second child Kate, under a bullock wagon, next to the Connors River, on the 28 th January 1862. Kate became the first white child born in the district. The family ventured on until they came to a beautiful lagoon; which Spencer decided to make their destination. Naming the nearby mountain, Mount Spencer, he called the property The Retreat.
However, this was later changed to Mt Spencer Station, when he purchased it from Hardy and Broughton. James helped build huts and yards and form Mt Spencer station. He was the first white man to cross the Eton Range in a bullock wagon, accompanied by a young lad called Billy Coakley, also known as Spencer's Billy (Billy Spencer) who was often referred to as an Aborigine but was actually born in Jamaica.
James and Mary later worked on Greenmount and then built the Traveller's Rest Hotel (now called the Range), first licensed in 1864 but thought to be operating before then. They had two more children while there, James and Mary. During their years at the Traveller's Rest, The Leap incident occurred.
When Mr Barnes, who ran a market garden at Cremorne, was speared by Aborigines, they were pursued by police on horseback and fled towards the mountain now known as The Leap. [Barnes did not die from the spear wound.] One Aboriginal woman with a baby in her arms jumped from the mountain. Her child survived and was rescued by James Ready and Mr Allen.
No one wanted the responsibility of caring for the child for fear of reprisals from the Aborigines so James took the baby home to his wife Mary and they raised and educated her with their family. The baby was named Johanna and she was baptised on the same day as their youngest child, Mary, on the 22 July 1867. Johanna (known as Judy) took the name Hazledeen, after the area where she was reared. (The Range Hotel is situated at Hazledeen.) She married an Englishman, George Howes, and they had three children.  William, the eldest, lived at Hampden and died a bachelor in Mackay. Their second child, Emily, lived only 6 days and their third child, May is believed to have entered a convent in Sydney.
James and Mary Ready's children:
Charles married Mary Breen and had no family. He was Mayor of Mackay in 1903 and 1913.
James junior died a bachelor in Bowen.
Kate married Pat Hynes and reared 6 children (4 infants deceased).
Mary married Pat Coughlin and reared 9 children (2 infants deceased).
The Readys later owned Fort Cooper Station, properties at Bakers Creek, Raceourse and in Mackay. The Cosmopolitan Hotel, Sydney Street, later called Molloys, was a great meeting place of the Irish.